ABOUT DENALI RAFTING ADVENTURES
Family owned and operated since 1974, Denali Raft Adventures, Inc. is the original raft company on the Nenana River at the entrance of Denali National Park, Alaska. We offer Gore-Tex dry suits for the utmost in comfort, neoprene boots, Coast Guard approved lifejacket, and a guided 18ft raft which allows you to experience a sense of adventure and fun for an activity that has inherent risks.
In order to provide you an enjoyable raft trip we supply knowledgeable guides, rafts, as well as the following gear for your comfort and safety.
Gore-Tex dry suits provided the most comfortable rafting experience possible. Our drysuits come with latex gaskets at the neck, and wrists and latex socks to keep your feet dry. The only body part that should get wet will be your hands and face. Raft in comfort in and out of the water with a full range of movement. Dry suits were developed for people working and/or playing around freezing cold water providing you with a waterproof exterior layer to wear over your own insulating layers. We provide neoprene booties that slip over the latex sock allowing your feet to warm themselves with your own body heat. A Coast Guard approved Type V lifejacket is provided.
To ensure your safety we take the following precautions:
There is a minimum of two boats per trip.
Each boat is equipped with a throw bag
The trip leader on each tour carries emergency and first aid supplies.
At least 1 or more certified Whitewater Rescue Technician on river trip at all times
Shuttle drivers monitor the trip via the highway when accessible
We promise to make every effort to provide you with the best possible adventure, full of laughter, and fun so that you can make a memory that will last a lifetime.
Please Note: Rafting is an inherently risky activity. Denali Raft Adventures, Inc., associated tour companies and their agents assume no responsibility what so ever and will not be held responsible for any loss, damage or injury to persons or property however caused. Clients will assume liability for participation in these activities by signing Denali Raft Adventures, Inc. "Participant Release of Liability" (a parent or guardian must sign for minors 18 years or younger), by wearing life jackets and listening attentively to our safety talk and by following our guide and staff's instructions. Denali Raft Adventures, Inc., associated tour companies and their agents assume no responsibility for any expenses incurred due to delays or trip cancellations. Denali Raft Adventures, Inc. reserves the right to cancel or change trips at any time due to varying conditions.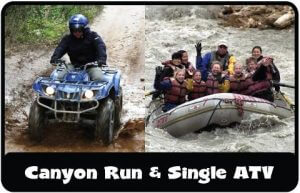 Choose the Denali Rafting Adventure that's Right for You!
Whitewater rafting, or a mild water float down the Nenana River.