Reservations with Denali Raft Adventures, Denali National Park, Alaska
Reservations and Availability : Space is usually available on any particular day, however some trip times may become fully booked, so reservations are recommended. For large groups with 16 or more people, we have the flexibility of arranging special check-in times in the event that the group is unable to go at one of our published times.
This option may be available on a day-to-day basis depending on current bookings. With advanced reservations a special time can be reserved.
When planning your trip please note the 2 hr., 4 hr., and full day times specified, indicate the actual time on the water. The "Plan to be with us time" is the time spent after reaching our office, until returning to it. The extra time allows for suiting with our equipment and a safety lecture. We also provide complimentary transportation to and from local lodging and the Alaska Railroad depot.
Making Reservations : A 100% deposit is required to hold a reservation. Secure your reservation with a personal check, cashier's check, Visa, MC, Discover Card, or American Express. You can place your reservation online, by phone, or in person. We can contact you, just email your phone number and a good time to call.
To book a raft tour
payment in full is required at time of booking.
To cancel and receive a partial refund you must notify us via e-mail seven days before your trip departure. Cancellations after time of booking will incur a 10% cancellation fee.  
See our covid-19 booking & cancellation Policy here
. No refunds will be issued for trips cancelled within seven days of the departure time.
By Phone:
1-907-683-2234
By e-mail:
info@denaliraft.com
Information needed to make your reservation:
Party Name.
Trip Name, Date & Time.
Number of people in your party, adults & children (11 & under).
Pick up information in local area if needed.
Have your deposit information ready.
Phone number & contact address for your written confirmation.
Cancellations after time of booking will incur a 10% cancellation fee, there will be no refund available for trips cancelled within seven days or less of raft trip date." All trips depart, rain or shine, as scheduled. To go rafting you must accept the risks of rafting by signing Denali Raft Adventures, Inc. "Participant Release of Liability…" and by listening closely to the Pre-trip safety lecture given by your guide and by following our guide and staff's instructions. We will process your reservation as soon as we receive your deposit.
Please note: Denali Raft Adventures Inc. reserves the right to refuse service, change or cancel trips due to varying conditions and circumstances. In the event we cancel or change your trip you can receive a full refund if you decide not to reschedule.
What to Wear: We provide all our customers with Gore-tex drysuits and neoprene booties. Dry suits provide no insulation, but provide the utmost of waterproof protection and allow for upper body movement necessary on paddle rafts. We recommend that you wear layer suitable for being outdoors for hours at a time. We highly recommend synthetic (fleece, polyester, polypropylene, etc.) or wool materials as opposed to cotton, as they keep you far warmer. We also recommend wool or fleece hats, gloves, and 2 pairs of socks.
Pregnant women should not participate.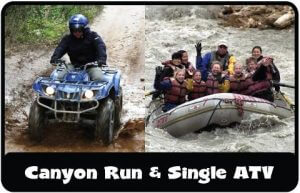 Choose the Denali Rafting Adventure that's Right for You!
Whitewater rafting, or a mild water float down the Nenana River.